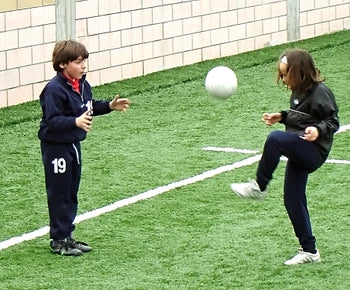 Celebrating Thanksgiving with Football on BIMINI® Bermuda Grass
Jamie Tedder
As the Thanksgiving season approaches, so does the time-honored tradition of gathering with family and friends to celebrate gratitude. For many, this celebration goes beyond just the feast; it involves an exciting game of football right on your own lawn.  
The laughter, the friendly rivalry, and the touchdown dances as you celebrate this cherished holiday tradition. But what sets the stage for this memorable game? It's none other than the lush and resilient BIMINI® Bermuda grass. In this blog, we'll explore why playing football on BIMINI® Bermuda grass is the ideal way to celebrate Thanksgiving, and we'll introduce you to Bethel Farms, your go-to source for quality turfgrass, including BIMINI®. 
Thanksgiving football games have become a cherished American tradition. It's a time for family and friends to gather on the lawn, indulge in some friendly competition, and create lasting memories. But what truly elevates this experience is having the perfect playing surface. Enter BIMINI® Bermuda grass. 
Introducing BIMINI Bermuda Grass
BIMINI® Bermuda grass isn't just any turf; it's a top-tier, improved hybrid Bermuda that forms a fine-textured, dense turf—a remarkable choice for high-traffic areas. What makes BIMINI® stand out? 
Excellent Dark Green Color, Even in Winter: While other lawns may lose their vibrancy in the winter months, BIMINI® Bermuda grass maintains its stunning dark green color year-round. So, even as the leaves fall and winter approaches, your lawn stays vibrant. 
A Deep Root System for Resilience: Resilience is a hallmark of BIMINI®. Its deep root system ensures it can handle heavy foot traffic and the occasional touchdown dance. 
A Consistent Look Across the Coverage: BIMINI® Bermuda grass offers a consistent and lush appearance, making it the perfect choice for Thanksgiving festivities. It's like having a pristine canvas for your celebrations. 
Benefits of Playing on BIMINI Bermuda Grass
As you prepare for your Thanksgiving football game, you'll quickly discover the numerous advantages of playing on BIMINI® Bermuda grass: 
Resilience:
Thanksgiving family football can get competitive, and players may unintentionally put your lawn to the test. BIMINI® Bermuda grass can handle it all. Its deep root system ensures it can handle the wear and tear of high-traffic sports with ease. 
Lush Appearance:
Thanksgiving is a time for celebration, and the visual appeal of your lawn plays a significant role. BIMINI® Bermuda grass offers a lush, inviting surface that enhances the overall experience. It's like playing on a carpet of green. 
Safe and Soft Surface:
Safety is a priority when playing football, especially with family and friends. BIMINI® Bermuda grass offers a soft and forgiving surface for players, reducing the risk of injuries during the game. 
So, when you gather your loved ones for that annual Thanksgiving football showdown, you can rest assured that your BIMINI® Bermuda grass is ready for action. It's not just a lawn; it's a partner in creating lasting memories. 
Your Source for Quality BIMINI Bermuda Grass
To achieve all these preparations and ensure your BIMINI® Bermuda grass is in prime condition, you can rely on Bethel Farms. As a reputable brand for turfgrass, Bethel Farms provides high-quality BIMINI® Bermuda grass that's perfect for your Thanksgiving football game. 
  
Bethel Farms is committed to excellence and offers a range of turfgrass varieties, including BIMINI®, that are specially cultivated to excel in high-traffic areas. Customer reviews and success stories underscore the quality of Bethel Farms' products and their dedication to providing top tier turfgrass. 
  
With Bethel Farms as your turfgrass source, you can rest assured that your BIMINI® Bermuda grass is ready to shine on Thanksgiving.
Football Game Essentials
As you prepare for your Thanksgiving football game on BIMINI® Bermuda grass, make sure you have these essentials in place:
Team Organization: 
Divide your family and friends into teams. For larger gatherings, consider creating a tournament format with multiple games.
Equipment: 
Gather all the necessary equipment, including footballs, markers for the field, and any safety gear you might need.
Game Rules: 
Set clear game rules before the kickoff. Discuss touchdowns, tackles, and any penalties to keep the game fun and fair. 
The Thanksgiving Football Tradition
Thanksgiving football games are about more than just touchdowns and tackles; they're about creating lasting memories. The camaraderie and joy of playing together on a sunny autumn day add a special touch to the Thanksgiving celebration. You're not just playing a game; you're building traditions that your family and friends will cherish for years to come.   

To enhance this tradition, having a resilient and beautiful playing surface like BIMINI® Bermuda grass is invaluable. It sets the stage for a fun and memorable game that will be a highlight of your Thanksgiving gathering. 

In conclusion, celebrating Thanksgiving with football on BIMINI® Bermuda grass is not just a game; it's a cherished tradition that brings joy and togetherness. The lush, resilient BIMINI® Bermuda grass provides the perfect stage for this annual event. By using BIMINI® for quality turfgrass, you can make this Thanksgiving football game a memorable and safe experience. Consider Bethel Farms for your turfgrass needs and enjoy a beautiful and durable lawn that will be the envy of your neighborhood.

For more information about BIMINI® Bermuda grass and Bethel Farms, visit our website. You can also explore further reading and resources on lawn care.